Yet again the 'Telethon race' on November 14th has been a great success. 652 pupils of our comprehensive school in Wiltz have taken part in this event and collected over Euro 38'000 in donations. This event has been organized for some years now. In the beginning the 'Telethon' was held in the swimming pool behind closed doors. Three years ago the formula changed, and the street race through the centre of the town replaced the swimming marathon. Its purpose was to show the public that the school community was aware of the health problems some of their schoolmates had, and that they wanted to help them. Why hold the 'Telethon' anyway? It is not only an opportunity to collect money to help people who suffer from muscular dystrophy; the 'Telethon' also offers a chance to show our solidarity with those classmates who cannot run, jump, or swim because their muscles cannot carry their body.
| | | |
| --- | --- | --- |
| | | The music of the Telethon |
| | | |
| --- | --- | --- |
| | | The young pupils in action |
| | | |
| --- | --- | --- |
| The older too | | |
| | | |
| --- | --- | --- |
| | | They are running |

Comme chaque année, la course du TELETHON le 14 novembre a connu un grand succès. 625 élèves de notre lycée ont participé à cette action qui a rapporté plus de 38.000 Euro grâce aux sponsors. Cet évènement est organisé à Wiltz depuis quelque années. Au début, le téléthon était organisé à la piscine sans public. Il y a trois ans, on a changé de formule et le « marathon de natation " a été remplacé par une course à pied à travers la ville. Le but de cette course est de montrer à la population que toute une école est consciente des problèmes de certains de nos élèves et que nous voulons les aider. Mais dans quel but ce téléthon est-il organisé? Le premier but n'est pas de collecter de l'argent pour les gens qui sont atteints de myopathie (d'une perte de leurs muscles) mais de montrer une solidarité pour nos élèves atteints de cette maladie. Ces élèves voudraient bien savoir courir, sauter ou nager. Mais leurs muscles ne le permettent pas. C'est la raison pour laquelle nous courons pour EUX.

Auch dieses Jahr hatte der Telethonlauf vom 14. November großen Erfolg. 652 Schülerinnen und Schüler aus unserer Schule nahmen an dieser Aktion teil und haben über 38.000 Euro an Sponsorengeldern zusammengebracht. Dieses Event wird schon seit mehreren Jahren in Wiltz organisiert. Am Anfang wurde das Telethon im Schwimmbad durchgeführt, unter Ausschluss des Publikums. Vor drei Jahren wurde die Formel geändert und das Schwimmmarathon wurde durch einen Straßenlauf durch die Stadt ersetzt. Ziel war es, der Bevölkerung zu zeigen, dass eine ganze Schulgemeinschaft sich der Probleme einiger Mitschüler bewusst ist und zusammen helfen möchte. Aber warum wird dieses Telethon überhaupt organisiert?  Es geht nicht nur darum, Geld zu sammeln um den Leuten, die an der Krankheit Myopathie, d.h. Muskelschwund leiden, zu helfen, sondern auch um unsere Solidarität mit den Schülern, die diese Krankheit haben, zu zeigen. Diese Schüler würden vielleicht gerne laufen, springen, schwimmen, aber ihre Muskeln tragen ihren Körper nicht. Deswegen laufen wir für sie.
| | | |
| --- | --- | --- |
| | | The start of the teachers |
| | | |
| --- | --- | --- |
| the race of the teachers | | |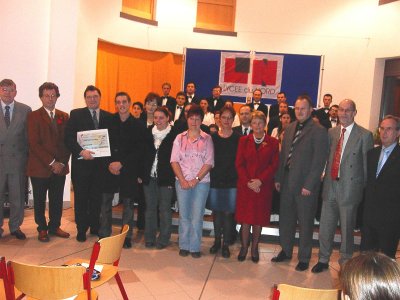 The delivery of the cheque


The romanian chorale was on tour in Luxemburg and organised a concert for the Telethon, at the time of the delivery of the cheque.
| | | |
| --- | --- | --- |
| | | Listen to the "cantores amicitiae" |
Other subjects in this category